Ghana's president, Nana Addo Danquah Akufo-Addo has become a strong voice of hope and conviction on the African continent.
Through his speeches, he has conveyed strong messages that have shaken the foundation of laxity and rekindled the spirit of strength in the bosom of the Black man.
After he became president in 2017, he has come to be known as a strong leader that is ready to push the frontiers and demand the undemanding from the western leaders without any equivocation.
Today is May Day. A day that is dedicated worldwide to celebrate the hard work, commitment to duty, and dedication to work of all workers.
However, COVID-19 is in town thus the usual ceremonies and durbars that are put together to climax the day will not be experienced this time.
On the back of that, President Akufo-Addo has sent a strong message to his citizens and encouraged them to keep believing in him and trust in his abilities to "steer the nation out of the crisis."
In a tweet, he assured Ghana of his leadership at this critical moment of everybody's life to be on top of affairs, protect the citizens against the virus, and ultimately rebuild the economy.
No country on earth has been spared the ravages of the virus, and my single-minded goal is to steer the country out of this crisis, protect our population from this virus, and see to the rebuilding of our economy. Nothing else matters to me – President Akufo-Addo said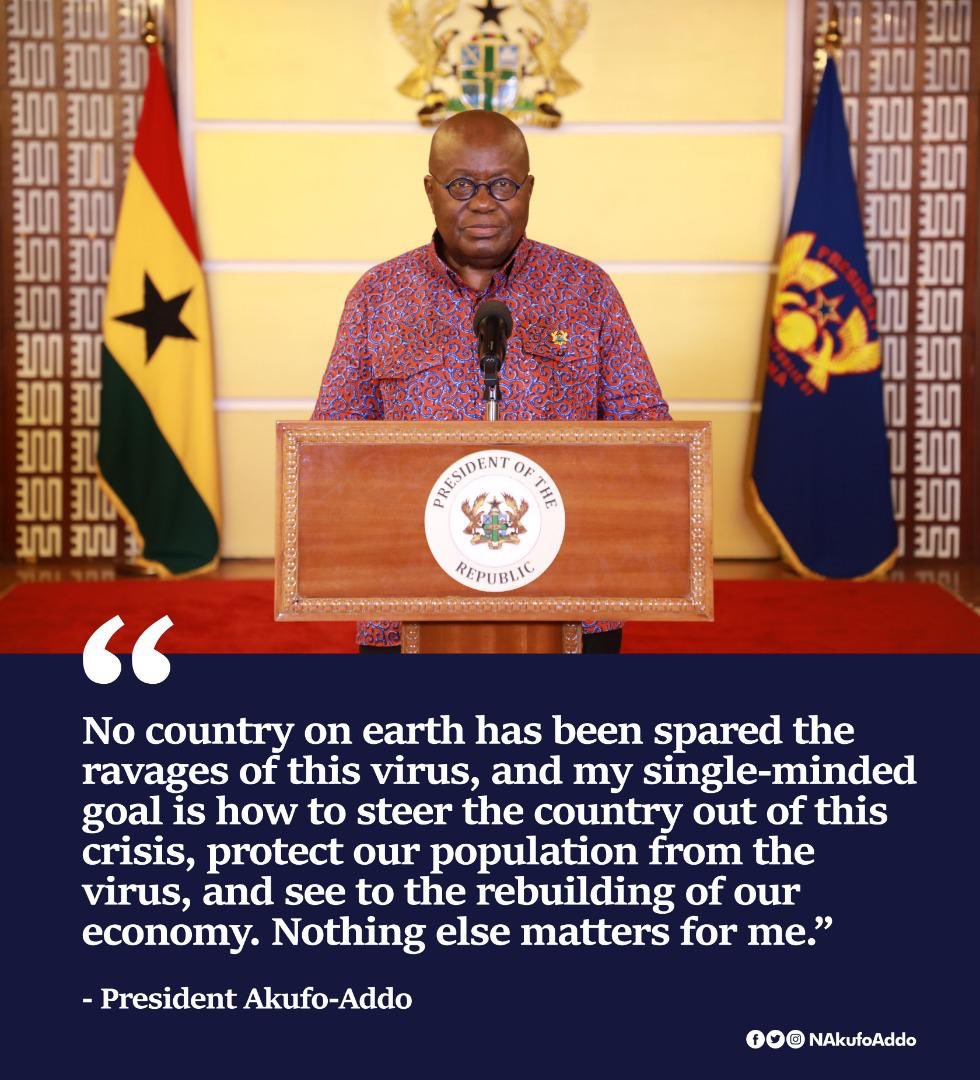 Ghana's fight against COVID-19 is one of the best on the continent but the cases are still rising by each passing day. Some citizens believe the president should put the nation under a complete lockdown but others believe a lockdown is not the best for Ghana.
Presently, Ghana can make a count of 2,074 COVID-19 cases with 17 deaths and 212 recoveries while the active cases stand at 1,845.
President Akufo-Addo has spoken to his citizens on eight occasions already since the country recorded its first COVID-19 case on March 12, 2020.
He instituted a partial lockdown which he lifted in a three week making Ghana the first African country to do such a thing. According to experts, Ghana's Coronavirus case will hit its peak on May 1, 2020, and will start seeing a decline thereafter.