Nigerian author and relationship coach, Praise George, has described the insatiable taste for sex by poorer folks as a strange phenomenon which is backed by a curse.
According to the writer, the rich do not have time for sex since they are preoccupied with a strong desire to make wealth and better their lives.
On the contrary, the poor have a very powerful sex drive which in most cases beats the understanding of all.
In other words, Praise George wants to say the richer you get, the more your sex drive reduces while the poorer you get, the more your sex drive increases.
He shared these thoughts on his Twitter timeline by writing:
The rich hardly have time for sex.
They are too busy making money.
They spend money on therapy to fix their low sex drive.

But the poor are cursed with a strange sex drive which defies all reason.
They pursue sex as if their prosperity depends on it.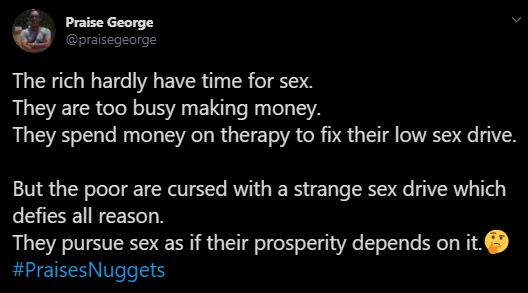 In conclusion, Praise George wants you to understand that whenever you come across a man or woman who has a strange sex drive, it is highly probable that the individual is either poor or idle.
Although there is a degree of truth in this statement, is it actually what it is?